Transforming work
A revolution is underway in the workplace and a credible hybrid working strategy is more important than ever.
We can help you find and implement the right solutions that not only drive increased productivity and retention, but also use new technologies to leverage the growing volume of digital information to create the emerging 'human plus' workforce.

"Empowering people to work ever more effectively to deliver increased business value"
Where and how should my people be working?
The Oaklin approach connects where we work with the type of work we are doing to deliver an effective location hybrid. The more relationship-based an activity is, the higher the likelihood of face-to-face interaction being optimal. The more task-based an activity, the more it is suited to working without interruption from others, making remote working preferable.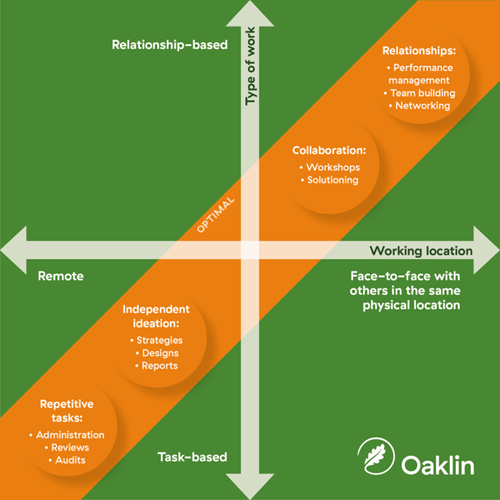 We encourage employers to build a culture where professional workers understand the link between the type of work and where it is best performed and are empowered to make their own choices. Getting the right balance can enhance both productivity, recruitment/retention and wellbeing.
0
Increase in Microsoft Teams users
0
Increase in weekly Microsoft Teams Chats per person
0
Increase in Microsoft Teams meetings
Sources: Statista Worldwide Teams Users and Microsoft Work Trends Index Report
How do I exploit the power of digital information?
Access to integrated information is critical to enabling the location hybrid, allowing workers to seamlessly switch from face-to-face to remote working. The effective exploitation of this data enables an intelligence hybrid, allowing workforces to become augmented in their decision-making by machine learning and artificial intelligence platforms.
We can help navigate the plethora of technologies to make the right choices to transform your workforce and amplify the effectiveness of your people, creating a 'human plus' workforce to deliver true business transformation.
Our approach
We support businesses by using all of our capabilities to define a credible, robust hybrid working strategy and then lead its execution using an incremental, agile framework.

Transforming work is most important to leaders looking to:
Increase productivity
Improve employee wellbeing and satisfaction
Enhance competitiveness
Reduce operating costs

"What excites me about transforming work is the speed of change taking place all around us, new ideas and innovations are arriving at a relentless pace. Whether it be the hardware and software we use or the location we are able to work, we all continue to adapt our ways of working and this presents ongoing opportunities for organisations to improve efficiency and performance."

James Young
James Young
Consultant
James is a consultant with experience managing complex transformation programmes across multiple sectors. James is passionate about delivering meaningful change initiatives for organisations and enjoys building lasting relationships to help solve our clients biggest challenges.
James joined Oaklin from Accenture's Digital Workplace practice and has a BSc in Business Administration from the University of Bath.
Financial Ombudsman Service - Smarter Working Programme
Oaklin were asked to support the Financial Ombudsman Service with the enablement of their Smarter Working Programme, to deliver hybrid working to their workforce of 4,000 people. The onset of the Covid-19 pandemic caused a rapid acceleration of the programme.
We defined the broader enablement strategy and oversaw the adoption approach to ensure the workforce embraced the change journey rather than simply receiving technology. To achieve this, we designed a tailored training and support experience and deployed change following agile Scrum methodology.
Satisfaction surveys showed that over 90% of staff had a positive experience with the deployment and it directly supported improvements in productivity. Oaklin were recognised for its contribution by being awarded a UK Business Tech Award in 2021 for Best Application of Technology in the Public Sector.